Many people think you can only use
laser membership cards
for auto insurance cards and medical cards. Of course they are great for those industries. And I think originally that seemed to be the main market, but now they are so diverse you can use them for a ton of things. And they save so much time and money, why not give them a go!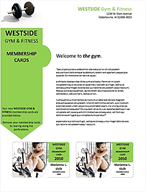 One of the best uses of laser cards is for registration for summer activities, gym memberships, and retail promotions. The card portion doesn't necessarily have to be used for identification of a person. Many have put coupons, confirmations for sign ups, free items, and much more. They have been becoming increasing popular for targeted mailing to include a promotion to get customers through the door. Another great use is a quick reference guide. Maybe you have an item that requires a fast set of instructions, or maybe a temporary password or access code. It is a great peel out card to keep with you.
The great thing about laser printable cards is combining low per piece cost, with simplicity of use, versatility, and durability. They are water and heat resistant. And because you can purchase either pre-printed or completely blank stock, you have more control of your costs and time efficiencies.
They are definitely worth a try.